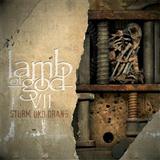 512 Noten sind weiter unten erhältlich. 512 wurde geschrieben von Lamb Of God.
Um das Notenblatt eines bestimmten Arrangements von 512 zu sehen, klicken Sie bitte auf das Vorschau-Symbol

dieses Arrangements weiter unten. Indem Sie auf die Klappliste "Alle Instrumente" klicken, können Sie auswählen für welches Instrument sie Partituren ansehen möchten.
Haben Sie von 512 Arrangements erworben, und möchten Sie einem einen Kommentar abgeben? Dann klicken Sie bitte unten auf das Kästchen "Kundenrezensionen" und Sie können einen Kundenkommentar zu jeder Partitur von Lamb Of God auf dieser Liedseite hinterlassen. Sie sollten einen Benutzernamen wählen und in Ihr Great Scores Konto eingeloggt sein. Nachdem das erledigt ist, können Sie Ihre Rezension auf dieser Seite hinterlassen. Sind Sie ein Benutzer von sozialen Medien wie Linkedin, Twitter, Facebook oder Digg? Dann können Sie andere über dieses Stück mittels Ihres sozialen Mediums informieren, indem Sie einfach auf den "Share-Knopf klicken. Sie haben z, Zt. die Wahl unter 1 Arrangement für 512. In dieser Gesamtzahl besteht gegenwärtig eine Auswahl für 1 instrument.
Klicke

für Arrangements
INSTRUMENT

LEVEL

STIL

SEITEN

VORSCHAU
PREIS
Solo Gitarren-Tabs
Gitarren-Tabs

Level:

Original

 Stil:

Metal / Popular & Folk

Seiten:

13
Klicken Sie auf

um ein Arrangement zu betrachten
512 Noten

und

benötigen kein Plugin. Diese können einmal ausgedruckt werden.


und
benötigen Adobe Flash. Diese Arrangements müssen innerhalb von 7 Tagen gedruckt werden.
Es gibt keine Rezensionen - Sie können gerne die erste Rezension erstellen. Sie müssen sich hierfür zunächst
Anmelden Sollten Sie kein Konto haben, müssen Sie sich zunächst Registrieren