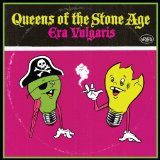 Vous pouvez afficher un aperçu avant achat des partitions de l'accompagnement de 3's & 7's plus bas. 3's & 7's est une composition de Queens Of The Stone Age.
Cliquez sur l'icône

 pour afficher un aperçu de la première page de la partition. La plupart des partitions incluent également l'extrait audio correspondant à  la page affichée. Vous pourrez voir et écouter le morceau dans son intégralité après avoir acheté . Nous proposons peut-être cette composition pour un nombre d'instruments différents. Si tel est le cas, vous avez la possibilité de filtrer les résultats pour n'afficher que ceux correspondant à  un instrument particulier. Il vous suffit pour cela de choisir votre instrument dans le menu déroulant intitulé "Tous les Instruments". Vous pourrez à  nouveau modifier cette sélection, autant de fois que vous le souhaitez.
Nous accordons une grande importance aux commentaires de nos clients. Si vous avez quelques minutes pour partager vos impressions sur cette chanson ou cet arrangement de 3's & 7's, merci de rédiger votre message dans la section intitulée "Commentaires Client". Assurez-vous pour cela d'être connecté à  votre compte client. Veuillez cliquer sur le bouton Share juste à  droite pour poster sur Twitter et Facebook. Vous pouvez aussi "aimer" ce site web en utilisant le bouton Facebook "Like" en haut de cette page. Nous pouvons vous proposer la partition de 3's & 7's pour 2 instruments. Notre sélection de partitions pour cette chanson compte 2 arrangements au total.
Cliquez

pour arrangements
2 arrangements - Instrument:
INSTRUMENT

NIVEAU (LEVEL)

STYLE

PAGES

VOIR
PRIX
Solo Tablatures Guitare
Tablatures Guitare

Niveau (Level):

Original

 Style:

Rock

Pages:

9

Solo Paroles et Accords
Paroles et Accords

Niveau (Level):

Original

 Style:

Metal / Rock

Pages:

2
Cliquez sur

pour voir une partition
3's & 7's Partitions

et

nécessitent pas de plugin. Ils peuvent être imprimés une fois
Il n'y a aucun commentaire client - Soyez la première personne à  écrire un commentaire. Vous devez faire la
Connexion Si vous ne possédez pas de compte vous devez Creer Un Compte
Mon Panier
Votre panier est vide

Devise:

USD

Changer