The John Dunbar Theme Bladmuziek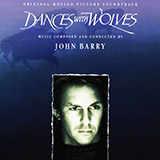 De muziek van The John Dunbar Theme is hieronder verkrijgbaar. Dit nummer is geschreven door John Barry.
Wilt u een partituur bekijken voor u hem koopt of wilt u een kort stukje horen, klik dan op dit pictogram

 naast de partituur die u wilt bekijken. Als er arrangementen beschikbaar zijn voor verschillende instrumenten, maar u wilt alleen de partituren zien voor één bepaald instrument, wijzig dan de selectie in het gedeelte meteen na deze alinea.
Als u een recensie wilt achterlaten over de bladmuziek van John Barry op deze pagina, klik dan op het tabblad "Commentaar". Zorg ervoor dat u bent aangemeld met uw account en kies een gebruikersnaam waaronder u uw zeer gewaardeerde commentaar wilt achterlaten. Wilt u dit nummer delen met uw vrienden? Klik dan op de knop Share (Delen) op deze pagina en u kunt uw vrienden en familie vertellen over dit heerlijke nummer. Wij bieden momenteel 16 arrangementen van The John Dunbar Theme voor  12 instrumenten.
16 arrangementen - Selecteer instrument:
INSTRUMENT

NIVEAU

STIJL

PAGINA'S

VOORBEELD
PRIJS
Solo Altsaxofoon
Altsaxofoon

Niveau:

Original

 Stijl:

Film & TV

Pagina's:

1

Solo Cello
Cello

Niveau:

Original

 Stijl:

Film & TV / Klassiek

Pagina's:

1

Solo Klarinet
Klarinet

Niveau:

Original

 Stijl:

Film & TV

Pagina's:

1

Solo Fluit
Fluit

Niveau:

Original

 Stijl:

Film & TV

Pagina's:

1

Solo Hoorn
Hoorn

Niveau:

Original

 Stijl:

Film & TV

Pagina's:

1

Solo Lead Sheet
Lead Sheet

Niveau:

Original

 Stijl:

Aanvullend

Pagina's:

2

Solo Piano
Piano

Niveau:

1.5

 Stijl:

Volksmuziek

Pagina's:

3

Piano

Niveau:

1.5

 Stijl:

Film & TV

Pagina's:

3

Piano

Niveau:

Original

 Stijl:

Film & TV

Pagina's:

4

Piano

Niveau:

Original

 Stijl:

Easy Listening

Pagina's:

2

Piano
Piano

/ Piano

Piano Duet

Niveau:

Original

 Stijl:

Film & TV

Pagina's:

4

Solo Tenorsaxofoon
Tenorsaxofoon

Niveau:

Original

 Stijl:

Film & TV

Pagina's:

1

Solo Trombone
Trombone

Niveau:

Original

 Stijl:

Film & TV

Pagina's:

1

Solo Trompet
Trompet

Niveau:

Original

 Stijl:

Film & TV

Pagina's:

1

Solo Altviool
Altviool

Niveau:

Original

 Stijl:

Klassiek / Film & TV

Pagina's:

1

Solo Viool
Viool

Niveau:

Original

 Stijl:

Film & TV

Pagina's:

1
Druk op

om een arrangement van de bladmuziek te bekijken
The John Dunbar Theme Bladmuziek

en

hoeven niet een plugins. U kunt ze een keer afdrukken
0 Reacties - Heeft u zin om te reageren. Om een ​​reactie te plaatsen, klik op
Aanmelden Als u nog geen account hebt, klik op Registreren