A Million Dreams Partiture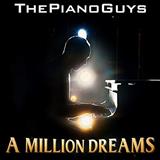 Artista:
The Piano Guys
,
Mac Huff
,
Pasek and Paul
,
Pink
(anche conosciuto come Alecia Beth Moore, P!nk)
Autore:
Jim Kazik
(James)
,
Benj Pasek
,
Justin Paul
,
Mac Huff
,
Mona Rejino
,
David Pearl
,
Roger Emerson
,
Pasek and Paul
A Million Dreams spartiti da Pasek and Paul e altri è al di sotto. Abbiamo 34 arrangiamenti per A Million Dreams Pianoforte, Voce e Chitarra Partiture e altri strumenti.
Ciò comprende 7 Duetti.Genere: Musicals & Shows, Film & TV, Broadway, Soul, Easy Listening, Supplementaria, Metal, Rock e Popular & Folk
Per vedere la partitura clicca sul tasto

vicino alla musica che ti interessa
34 arrangiamenti - Seleziona strumento:
Premi

per vedere una partitura
A Million Dreams Partiture

e

non richiedono alcun plugin. Possono essere stampate una volta


e
richiedono Adobe Flash per giocare e stampare una partitura. Devi stampare le partiture Flash entro 7 giorni.
Nessuna recensione - Recensisci per primo questo articolo. Devi effettuare il
Accedi Se non hai un conto, clicchi su Registrazione
Carrello
Nessun articolo

Valuta:

USD

Cambia