A Soldier's Tale Partituras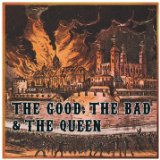 Todas las partituras disponibles de A Soldier's Tale se encuentran en la sección de abajo. Esta pieza musical fue compuesta por The Good, The Bad & The Queen, Elvis Presley (también conocido como Elvis Aaron, The King of Rock and Roll).
Puedes acceder a la vista preliminar de la primera página de A Soldier's Tale haciendo clic en el icono de previsualización

 que está pegado a la partitura que quieres ver. La mayoría de los archivos de ofrecen un breve extracto de audio y la posibilidad de transportar una pieza y de cambiar el instrumento de la melodía principal. En caso de que solamente quieras ver los arreglos para un instrumento en concreto, elige el instrumento en el que estés interesado en el menú de abajo. Esta opción está solo disponible si hay arreglos musicales para más de un instrumento.
Si quieres dar tu opinión sobre cualquiera de nuestras partituras, visita la sección "Opiniones de clientes" y podrás aportar tus comentarios. ¿Te gustaría compartir esta canción con tus amigos? Simplemente haz clic en el botón "Share" (compartir) de esta página, y podrás informar a tus amigos y familia acerca de esta estupenda composición. Puedes elegir entre 1 arreglo para 4 instrumentos de la composición A Soldier's Tale.
Haz clic

para arreglos
Haz clic en

para ver un arreglo
A Soldier's Tale Partituras

y

no requieren plugins. Puede imprimir estas partituras una vez


y
necesitan el complemento gratuito Adobe Flash. Debes imprimir las partituras Flash dentro de 7 días.
No hay ningunas opiniones de clientes - Sé el primero en escribir una opinión sobre esta partitura. Para escribir una opinión, haz clic en
Entrar Si no tienes una cuenta, haz clic en Registrarte