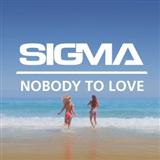 Artist:
Sigma
Tekstforfatter:
Sakiya Sandifer
,
Sigma
,
Cameron James Edwards
(Også kendt som Cam)
,
Joseph Aluin Lenzie
,
Bobby Dukes
,
Bobby Massey
,
Che Pope
,
Cydel Young
,
Ernest Wilson
,
John Legend
,
Kanye West
(Ye, Kanye Omari)
,
Lester McKenzie
,
Malik Jones
,
Mike Dean
,
Norman Whiteside
,
Ronnie Self
,
Charlie Wilson
(Kent, Uncle Charlie)
Længere nede kan du se en forhåndsvisning af alle vores aktuelt tilgængelige partiturer for melodien Nobody To Love. Sakiya Sandifer, Sigma, Cameron James Edwards (Også kendt som Cam), Joseph Aluin Lenzie, Bobby Dukes, Bobby Massey, Che Pope, Cydel Young, Ernest Wilson, John Legend, Kanye West (Ye, Kanye Omari), Lester McKenzie, Malik Jones, Mike Dean, Norman Whiteside, Ronnie Self, Charlie Wilson (Kent, Uncle Charlie) er komponisten af Nobody To Love.
En forhåndsvisning på én side af Nobody To Love kan ses for hver enkelt tilgængeligt partitur ved at klikke på denne knap

ved siden af det relevante partitur. Klikker du på dropdown-menuen "alle instrumenter" du lave en justering, så du kun ser arrangementerne for át specifikt instrument.
Har du købt nogle af arrangementerne af Nobody To Love, og vil du gerne afgive en anmeldelse af et af dem? Klik da på Kommentar-boksen nedenfor, hvorefter du kan afgive dit kundefeedback om ethvert af partiturerne af Sigma på denne sangside. Det er nødvendigt, at du først vælger et kaldenavn og er logget ind på din Great Scores-konto, men når det er gjort, kan du afgive din kommentar om partituret på denne side. Er du en habil bruger af sociale netværk? Hvorfor så ikke gøre brug af del-funktionen (Share) på denne side til at poste denne sangside på din Twitter-konto eller Facebook-side. Du kan også dele siden via e-mail og andre sociale medier. Nobody To Love fås aktuelt i 2 arrangementer. Vi tilbyder yderligere 4 instrumenter som denne komposition er blevet udsat for.
Klik

for arrangementer
2 arrangementer - Vælg instrument:
Tryk på

for at se et arrangement af noderne
Nobody To Love Noder

og

: Ingen plugin påkrævet. Du kan udskrive disse én gang
Det er nødvendigt at download Adobe Flash plugin programmet for at udskrive et partitur

og
. Du skal Flash noder indenfor 7 dage udskrive.
0 kommentarer - Bliv den første til at kommentere. At efterlade en kommentar skal du:
Logge ind Hvis du ikke har en konto, klik på Registrering