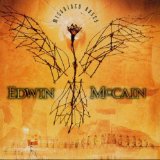 Partituret for I'll Be er tilgængeligt nedenfor. I'll Be er skrevet af Edwin McCain.
For at kunne se partituret for I'll Be bedes du klikke på preview-knappen

ved siden af det partitur, du er interesseret i. Ønsker du kun at se vores tilgængelige arrangementer for ét instrument (for eksempel: klaver)? I så fald bedes du vælge instrumentet (for eksempel: klaver) i dropdown-menuen lige ovenover alle partiturerne, der kan forhåndsvises.
Vi vil rigtig gerne høre dit feedback om vores arrangementer. Log ganske enkelt ind på din konto, vælg den sang, som du gerne vil give et feedback om, naviger dernæst hen til "Kommentarer" på sangsiden, og efter du har valgt et brugernavn, kan du gå i gang. Har du lyst til at fortælle dine kammerater om dette stykke musik eller arrangement? I så fald kan du klikke på den grønne del-knap (Share) og beslutte, hvordan du ønsker at dele denne side. Vi har 19 arrangementer af denne sang tilgængelige for 18 instrumenter.
Klik

for arrangementer
19 arrangementer - Vælg instrument:
INSTRUMENT

NIVEAU

STILART

SIDER

PREVIEW
PRIS
Solo Altsaxofon
Altsaxofon

Niveau:

Original

 Stilart:

Popular & Folk / Ballade / Bryllup

Sider:

2

Solo Cello
Cello

Niveau:

Original

 Stilart:

Bryllup / Ballade / Popular & Folk

Sider:

2

Solo Klarinet
Klarinet

Niveau:

Original

 Stilart:

Popular & Folk / Rock

Sider:

2

Solo Fljøte
Fljøte

Niveau:

Original

 Stilart:

Popular & Folk / Rock

Sider:

2

Solo Valdhorn
Valdhorn

Niveau:

Original

 Stilart:

Ballade / Bryllup / Popular & Folk

Sider:

2

Solo Guitar
Guitar

Niveau:

1.5

 Stilart:

Popular & Folk

Sider:

3

Solo Guitar TAB
Guitar TAB

Niveau:

Original

 Stilart:

Popular & Folk / Rock

Sider:

5

Solo Lead Sheet
Lead Sheet

Niveau:

Original

 Stilart:

Bryllup

Sider:

2

Lead Sheet

Niveau:

Original

 Stilart:

Broadway / Jazz / Popular & Folk

Sider:

5

Lead Sheet

Niveau:

Original

 Stilart:

Ballade / Popular & Folk

Sider:

4

Solo Lyrics og Akkorder
Lyrics og Akkorder

Niveau:

Original

 Stilart:

Popular & Folk / Rock

Sider:

3

Klaver, Sang & Guitar
Klaver, Sang & Guitar / Klaver / Sang / Guitar

Niveau:

Original

 Stilart:

Popular & Folk / Rock

Sider:

7

Solo Klaver
Klaver

Niveau:

Original

 Stilart:

Rock / Popular & Folk

Sider:

8

Solo Tenorsaxofon
Tenorsaxofon

Niveau:

Original

 Stilart:

Popular & Folk / Bryllup / Ballade

Sider:

2

Solo Basun
Basun

Niveau:

Original

 Stilart:

Ballade / Bryllup / Popular & Folk

Sider:

2

Solo Trompet
Trompet

Niveau:

Original

 Stilart:

Bryllup / Ballade / Popular & Folk

Sider:

2

Solo Ukulele
Ukulele

Niveau:

Original

 Stilart:

Ballade / Popular & Folk / Rock

Sider:

5

Solo Bratsch (Viola)
Bratsch (Viola)

Niveau:

Original

 Stilart:

Ballade / Popular & Folk / Bryllup

Sider:

2

Solo Violin
Violin

Niveau:

Original

 Stilart:

Ballade / Bryllup / Popular & Folk

Sider:

2
Tryk på

for at se et arrangement af noderne
I'll Be Noder

og

: Ingen plugin påkrævet. Du kan udskrive disse én gang
0 kommentarer - Bliv den første til at kommentere. At efterlade en kommentar skal du:
Logge ind Hvis du ikke har en konto, klik på Registrering
Indkøbskurv
Der er ingen emner i din indkøbskurv

Valuta:

EUR

Skift