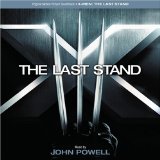 Alle tilgængelige partiturer for 20 Years Ago kan ses i nedenstående sektion. John Powell, X-Men: The Last Stand (Movie) er komponisten af dette stykke musik.
For at kunne se partituret for 20 Years Ago bedes du klikke på preview-knappen

ved siden af det partitur, du er interesseret i. Hvis du kun ønsker at se arrangementerne for ét specifikt instrument, bedes du vælge det ønskede instrument i nedenstående menu. Du kan kun foretage denne ændring, hvis der er partiturarrangementer for mere end et instrument.
Hvis du har lyst til at skrive en anmeldelse af John Powell, X-Men: The Last Stand (Movie) partituret på denne side, bedes du klikke på fanen "Kommentarer". Sørg for, at du er logget ind på din konto, og vælg dernæst et brugernavn, som dit meget værdsatte feedback kan tilknyttes. Vil du gerne dele dette nummer med dine venner? Så klik blot på del-knappen (Share) på denne side, hvorefter du kan fortælle dine venner og familie om dette fede nummer. Du kan vælge imellem 1 arrangement for 1 instrument for kompositionen 20 Years Ago.
0 kommentarer - Bliv den første til at kommentere. At efterlade en kommentar skal du:
Logge ind Hvis du ikke har en konto, klik på Registrering