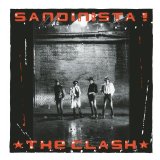 Du kan förhandsgranska våra för närvarande tillgängliga arrangemang av Charlie Don't Surf listade efter instrument längre ned på den här sidan. Charlie Don't Surf komponerades av The Clash.
För att se ett specifikt arrangemang av Charlie Don't Surf klickar du på förhandsvisningsikonen

längre ner för den specifika noten du är intresserad av. I sektionen "Välj instrument" ovanför alla våra noter för det här stycket, kan du växla mellan att visa alla tillgängliga instrument för Charlie Don't Surf och ett specifikt instrument.
Du kan ge kundfeedback om alla The Clash-arrangemang på den här låtsidan. Navigera till Kommentarer-fliken nedan, se till att du är inloggad på ditt Great Scores-konto, och när du har valt ett användarnamn (som kommer gälla för alla dina kommentarer framöver) kan du skriva din recension. Ingen spam och inga webbadresser tack, dessa kommer att tas bort. Lever du ditt sociala liv på nätet? Då kan du passa på att använda "Share"-funktionen på den här sidan för att posta den här låtsidan till ditt Twitter-konto eller din Facebook-sida. Du kan också dela via mejl eller andra sociala media. Vår notkatalog innehåller för närvarande 1 arrangemang av Charlie Don't Surf. Dessutom går det just nu att välja mellan 1 instrument att köpa för.
INSTRUMENT

NIVÅ

GENRE

SIDOR

VISA
PRIS
Solo Text och Ackord
Text och Ackord

Nivå:

Original

 Genre:

Rock

Sidor:

3
Tryck på

för att se ett arrangemang
Charlie Don't Surf Noter

och

: Ingen plugin krävs. Du kan skriva ut dem en gång
Du måste ladda ner insticksprogrammet Adobe Flash för att kunna se och skriva ut noter med

och
. Du måste Flash noter inom 7 dagar skriva ut.
0 Kommentarer - Skriv den första kommentaren. För att skriva en kommentar, klicka på
Logga In Om du ännu inte har ett konto klickar du på Registrera