Dance Only With Me Digitale Noter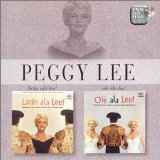 Notene til sporet Dance Only With Me kan kjøpes nedenfor. Opphavspersonen til Dance Only With Me er Peggy Lee, Perry Como, Jule Styne.
Klikk på forhåndsvisningsknappen vår

for å se første side av Dance Only With Me. Hvis vi tilbyr komposisjonen for flere ulike instrumenter, kan du bytte for å se de tilgjengelige arrangementene for bare ett instrument eller for alle instrumentene. Dette gjør du ved å endre valget i nedtrekksmenyen «Alle instrumenter».
Vi har en Kommentarer-kategori nedenfor der du kan skrive inn tankene dine om denne Peggy Lee, Perry Como, Jule Styne-sangen. Bare klikk på den for å vise eksisterende tilbakemeldinger og for å legge inn dine egne. Alt du trenger å gjøre er å velge et skjermnavn (et som ikke allerede er tatt - vi sier fra om det alt er i bruk), og du er klar til å poste. Bruker du Facebook eller Twitter? Da kan du enkelt fortelle vennene dine på nettet om dette flotte mesterverket ved å klikke på den grønne delingsknappen (Share) på denne siden. For øyeblikket har databasen vår 7 arrangementer av Dance Only With Me for 6 instrumenter.
7 arrangementer - Velg Instrument:
INSTRUMENT

NIVÅ

STIL

SIDER

FORHÅNDSVIS
PRIS
Solo Lead Sheet
Lead Sheet

Nivå:

Original

 Stil:

Populært Og Folkelig / Broadway / Jazz

Sider:

1

Piano/Sang/Gitar
Piano/Sang/Gitar / Piano / Sang / Gitar

Nivå:

Original

 Stil:

Broadway / Jazz

Sider:

2

Solo Piano
Piano

Nivå:

Original

 Stil:

Jazz

Sider:

5

Piano

Nivå:

Original

 Stil:

Populært Og Folkelig / Jazz

Sider:

3

Solo Real Book
Real Book

Nivå:

Original

 Stil:

Populært Og Folkelig / Jazz / Broadway

Sider:

1

Real Book

Nivå:

Original

 Stil:

Jazz / Broadway / Populært Og Folkelig

Sider:

1

Real Book

Nivå:

Original

 Stil:

Broadway / Jazz / Populært Og Folkelig

Sider:

1
Klikk

for å vise et arrangement av musikken
Dance Only With Me Digitale Noter

og

: Ingen plugin breves. De kan skrives ut en gang. De kan skrives ut en gang
0 Kundekommentarer - Være den første til å kommentere. Ã… legge igjen en kommentar klikk på
Logg På Hvis du ikke har en konto klikker du på Registrering