16, 17: God So Loved The World (John 3:16, 17) Digitale Noter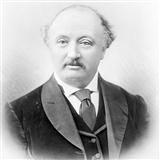 Du kan se våre arrangementer av 16, 17: God So Loved The World nedenfor. Dette sporet er skrevet av Sir John Stainer, Phillip Keveren.
Når du skal forhåndsvise et spesifikt partitur, må du klikke på denne knappen

. Vil du bare se våre tilgjengelige arrangementer for ett instrument (for eksempel piano)? Da velger du instrumentet (for eksempel piano) i nedtrekksmenyen like over alle partiturene som kan forhåndsvises.
Hvis du vil legge inn en anmeldelse av noen av partiturene våre, går du til delen som er merket "Kommentarer", så kan du skrive din egen anmeldelse der. Vil du fortelle verden hvor bra dette sporet er? Fint - bare klikk på delingsknappen (Share) og velg blant Facebook, Twitter, e-post og andre delingsvalg, og sett i gang. Du trenger ikke engang å logge deg på Great Scores-kontoen din for å gjøre dette. Du kan velge blant 3 arrangementer for 4 instrumenter for komposisjonen 16, 17: God So Loved The World.
3 arrangementer - Velg Instrument:
INSTRUMENT

NIVÅ

STIL

SIDER

FORHÅNDSVIS
PRIS
Piano/Sang/Gitar
Piano/Sang/Gitar / Piano / Sang / Gitar

Nivå:

Original

 Stil:

Religiøst

Sider:

5

Solo Piano
Piano

Nivå:

Original

 Stil:

Religiøst / Populært Og Folkelig / Klassisk

Sider:

3

Piano

Nivå:

Original

 Stil:

Religiøst

Sider:

3
Klikk

for å vise et arrangement av musikken
16, 17: God So Loved The World (John 3:16, 17) Digitale Noter

og

: Ingen plugin breves. De kan skrives ut en gang. De kan skrives ut en gang
0 Kundekommentarer - Være den første til å kommentere. Ã… legge igjen en kommentar klikk på
Logg På Hvis du ikke har en konto klikker du på Registrering