Nobody To Love Bladmuziek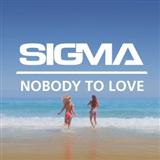 Artiest:
Sigma
Schrijver:
Sigma
,
Cameron James Edwards
(Ook bekend als Cam)
,
Joseph Aluin Lenzie
,
Bobby Dukes
,
Bobby Massey
,
Charles Wilson
,
Che Pope
,
Cydel Young
,
Ernest Wilson
,
John Legend
,
Kanye West
(Ook bekend als Ye, Kanye Omari)
,
Lester McKenzie
,
Malik Jones
,
Mike Dean
,
Norman Whiteside
,
Ronnie Self
,
Sakiya Sandifer
Verderop vindt u voorbeelden van al onze beschikbare partituren voor het nummer Nobody To Love. Sigma, Cameron James Edwards (Ook bekend als Cam), Joseph Aluin Lenzie, Bobby Dukes, Bobby Massey, Charles Wilson, Che Pope, Cydel Young, Ernest Wilson, John Legend, Kanye West (Ook bekend als Ye, Kanye Omari), Lester McKenzie, Malik Jones, Mike Dean, Norman Whiteside, Ronnie Self, Sakiya Sandifer is de componist van Nobody To Love.
U kunt een voorbeeld van één pagina van Nobody To Love bekijken door op de knop

te klikken naast de betreffende partituur. Door op het keuzemenu "Alle instrumenten" te klikken, kunt u de weergave aanpassen en alleen de arrangementen voor één bepaald instrument weergeven.
Hebt u een arrangement van Nobody To Love gekocht en wilt u een recensie erover achterlaten? Klik dan op het vak Commentaar hieronder en u kunt uw commentaren over willekeurig welke partituur van Sigma achterlaten op deze liedpagina. U dient een alias te kiezen en aangemeld zijn met uw Great Scores-account, maar als dat achter de rug is, kunt u uw commentaar op de bladmuziek achterlaten op deze pagina. Bent u een internethippe sociale-netwerkgoeroe? Dan wilt u waarschijnlijk wel de deelfunctie (Share) op deze pagina gebruiken en deze liedpagina delen op uw Twitter-account of Facebook-pagina. U kunt hem ook delen via e-mail en op andere sociale netwerken. Nobody To Love is momenteel verkrijgbaar in 2 arrangementen. Bovendien bieden we 4 instrumenten waarvoor deze compositie is gearrangeerd.
Klik

voor arrangementen
Verder Bladmuziek
Ruby (Kaiser Chiefs - Yours Truly, Angry Mob)
Uptown Funk (Mark Ronson, Bruno Mars)
2 arrangementen - Selecteer instrument:
Druk op

om een arrangement van de bladmuziek te bekijken
Nobody To Love Bladmuziek

en

hoeven niet een plugins. U kunt ze een keer afdrukken
U moet de Adobe Flash-invoegtoepassing downloaden om bladmuziek met

en
te kunnen afdrukken. U moet Flash noder binnen 7 dagen afdrukken.
0 Reacties - Heeft u zin om te reageren. Om een ​​reactie te plaatsen, klik op
Aanmelden Als u nog geen account hebt, klik op Registreren