Can't We Talk It Over Bladmuziek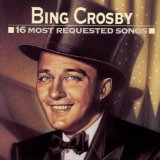 Verderop vindt u voorbeelden van de partituren van het nummer Can't We Talk It Over. Can't We Talk It Over is gecomponeerd door Bing Crosby.
Wat bijzonder is aan Great Scores is dat u alle beschikbare arrangementen van een lied eerst kunt bekijken voordat u ze gaat kopen. Zo kunt u de beste keuze maken voor uw persoonlijke muzikale mogelijkheden en speelstijl, of u nu een beginner bent op uw instrument of al vergevorderd bent. Klik gewoon op de twee nootjes

 (onze voorbeeldknop) als u een bepaalde partituur wilt bekijken. Sluit deze partituur en klik op een andere voor een ander arrangement van Can't We Talk It Over. Wanneer deze compositie beschikbaar is voor verschillende instrumenten, dan hebt u de  optie om alleen arrangementen voor één bepaald instrument weer te geven. Dit bereikt u door op het keuzemenu "Instrument" te klikken en de selectie te wijzigen. U kunt dit op elk moment weer veranderen.
Hieronder vindt u een tabblad Commentaar waar u uw mening over het  lied van Bing Crosby kunt opschrijven. Klik hierop om bestaande commentaren van klanten te lezen of om uw eigen tekst te typen. U hoeft alleen maar een gebruikersnaam te kiezen (die nog niet eerder is gebruikt - we waarschuwen u als dat wel zo is) en u kunt uw bericht posten. Gebruikt u Facebook of Twitter? Dan kunt u uw online-vrienden gemakkelijk op de hoogte brengen van dit meesterwerk door op de groene knop "Delen" (Share) op deze pagina te klikken. Wij bieden bladmuziek van Can't We Talk It Over voor 4 instrumenten In totaal bevat onze verzameling bladmuziek voor dit lied 1 arrangement  waar u uit kunt kiezen.
Druk op

om een arrangement van de bladmuziek te bekijken
Can't We Talk It Over Bladmuziek

en

hoeven niet een plugins. U kunt ze een keer afdrukken
U moet de Adobe Flash-invoegtoepassing downloaden om bladmuziek met

en
te kunnen afdrukken. U moet Flash noder binnen 7 dagen afdrukken.
0 Reacties - Heeft u zin om te reageren. Om een ​​reactie te plaatsen, klik op
Aanmelden Als u nog geen account hebt, klik op Registreren