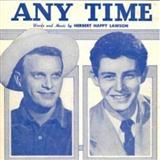 Alle onze beschikbare partituren van de compositie Any Time worden op deze pagina weergegeven. De componist van Any Time is Herbert Happy Lawson, Eddy Arnold.
Klik op het voorbeeldpictogram

 Â als u een voorbeeld van één pagina van de partituur wilt bekijken. Voor de meeste partituren is ook een geluidsvoorbeeld beschikbaar. Wanneer u een stuk bladmuziek hebt afgedruktdan kunt u het stuk in zijn geheel bekijken en beluisteren. Als de compositie beschikbaar is voor verschillende instrumenten, dat kunt u de beschikbare arrangementen voor slechts één instrument of voor alle instrumenten weergeven. U doet dit door de selectie te wijzigen in het keuzemenu met de tekst "Alle instrumenten".
Hieronder vindt u een tabblad Commentaar waar u uw mening over het  lied van Herbert Happy Lawson, Eddy Arnold kunt opschrijven. Klik hierop om bestaande commentaren van klanten te lezen of om uw eigen tekst te typen. U hoeft alleen maar een gebruikersnaam te kiezen (die nog niet eerder is gebruikt - we waarschuwen u als dat wel zo is) en u kunt uw bericht posten. Gebruikt u Facebook of Twitter? Dan kunt u uw online-vrienden gemakkelijk op de hoogte brengen van dit meesterwerk door op de groene knop "Delen" (Share) op deze pagina te klikken. Any Time is gearrangeerd voor 7 instrumenten en we hebben momenteel in totaal 6 arrangementen in ons aanbod.
Klik

voor arrangementen
6 arrangementen - Selecteer instrument:
Druk op

om een arrangement van de bladmuziek te bekijken
Any Time Bladmuziek

en

hoeven niet een plugins. U kunt ze een keer afdrukken
U moet de Adobe Flash-invoegtoepassing downloaden om bladmuziek met

en
te kunnen afdrukken. U moet Flash noder binnen 7 dagen afdrukken.
0 Reacties - Heeft u zin om te reageren. Om een ​​reactie te plaatsen, klik op
Aanmelden Als u nog geen account hebt, klik op Registreren