Slave To The Game Partiture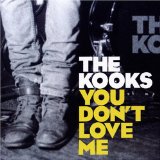 È possibile visualizzare un'anteprima degli arrangiamenti attualmente disponibili di Slave To The Game: sono elencati per tipo di strumento su questa pagina, più in basso. Slave To The Game è stata composta da The Kooks.
È possibile caricare una pagina di anteprima di ciascuna partitura di Slave To The Game cliccando il seguente pulsante

accanto allo spartito desiderato. Per impostazione predefinita, il sito elenca tutti gli spartiti musicali per tutti gli strumenti disponibili (a meno che non si sia svolta una ricerca per un determinato strumento). Lo strumento per cui vengono elencate le partiture può essere facilmente modificato dal menù a discesa accanto alla dicitura "Seleziona strumento".
Hai recentemente acquistato lo spartito di un pezzo che ti è veramente piaciuto suonare? In tal caso, magari desideri condividere con altri i tuoi pensieri su questo brano. Puoi farlo cliccando sulla scheda Recensioni (accanto a quella denominata Partiture) e una volta selezionato un nome utente (visibile agli altri utenti) puoi pubblicare sul sito le tue opinioni musicali. Vuoi condividere questa composizione sulla tua bacheca di Facebook o pagina Twitter? Tutto ciò che devi fare è cliccare sul pulsante "Share" e selezionare l'applicazione corrispondente al social media che desideri utilizzare per condividere la pagina di questa canzone. Al momento è possibile scegliere fra 1 arrangiamento di Slave To The Game. Fra questi abbiamo attualmente una scelta di 1 Strumento.
Premi

per arrangiamenti
STRUMENTO

LIVELLO

GENERE

PAGINE

ANTEPRIMA
PREZZO
Solo Testi e Accordi
Testi e Accordi

Livello:

Original

 Genere:

Rock

Pagine:

2
Premi

per vedere una partitura
Slave To The Game Partiture

e

non richiedono alcun plugin. Possono essere stampate una volta


e
richiedono Adobe Flash per giocare e stampare una partitura. Devi stampare le partiture Flash entro 7 giorni.
Nessuna recensione - Recensisci per primo questo articolo. Devi effettuare il
Accedi Se non hai un conto, clicchi su Registrazione