(In The) Morning Of My Life Partiture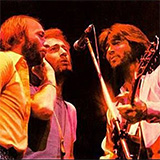 È possibile visualizzare un'anteprima della partitura del brano (In The) Morning Of My Life qui sotto. Il compositore di (In The) Morning Of My Life è Bee Gees.
Il bello di Great Scores è che è possibile visualizzare tutti gli arrangiamenti disponibili per una canzone prima di effettuare l'acquisto. In questo modo sia i principianti che i musicisti di livello avanzato possono effettuare la scelta che più si addice ai propri stile e abilità  musicali. Basta cliccare sulle due crome

(il nostro pulsante di anteprima) per visualizzare uno spartito. Chiudere lo spartito e cliccarne un altro per caricare un arrangiamento alternativo di (In The) Morning Of My Life. Se la composizione musicale è disponibile per una serie di strumenti diversi, puoi cambiare le impostazioni e visualizzare gli arrangiamenti per un unico o per tutti gli strumenti. Per fare ciò, basta modificare la selezione nel menù a tendina "Tutti gli strumenti".
La tua opinione è importante. Se hai un momento per dirci cosa ne pensi della canzone o dell'arrangiamento di Bee Gees, o di qualsiasi altra canzone, ti invitiamo a lasciare feedback nella scheda Recensioni. Controlla di aver effettuato il login. Usi Facebook o Twitter? Puoi far conoscere questo capolavoro ai tuoi amici online, cliccando sul pulsante verde "Share" presente su questa pagina. Attualmente il nostro database dispone di 1 arrangiamento di (In The) Morning Of My Life per 4 strumenti.
Premi

per arrangiamenti
Premi

per vedere una partitura
(In The) Morning Of My Life Partiture

e

non richiedono alcun plugin. Possono essere stampate una volta


e
richiedono Adobe Flash per giocare e stampare una partitura. Devi stampare le partiture Flash entro 7 giorni.
Nessuna recensione - Recensisci per primo questo articolo. Devi effettuare il
Accedi Se non hai un conto, clicchi su Registrazione