Happenings Ten Years Time Ago Partiture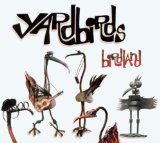 I nostri arrangiamenti di Happenings Ten Years Time Ago sono visualizzabili qui sotto. Happenings Ten Years Time Ago è stata scritta da The Yardbirds.
Per l'anteprima di una partitura specifica, cliccare su questo pulsante

. Per visualizzare solamente gli arrangiamenti di un determinato strumento, selezionare lo strumento desiderato dal menù sottostante. Questa opzione è disponibile solamente quando sono presenti arrangiamenti per più di uno strumento.
Se desideri fornire una recensione per gli spartiti di The Yardbirds presenti su questa pagina, clicca sulla scheda "Recensioni". Verifica di aver effettuato il login al tuo account e scegli un nome utente con cui lasciare il feedback. Te ne saremo grati. Vuoi condividere questo pezzo con i tuoi amici? Clicca sul pulsante "Share" in questa pagina per far conoscere questo bellissimo brano ad amici e parenti. Al momento offriamo 1 arrangiamento di Happenings Ten Years Time Ago per 1 Strumento.
Premi

per arrangiamenti
STRUMENTO

LIVELLO

GENERE

PAGINE

ANTEPRIMA
PREZZO
Solo Tablatura Chitarra
Tablatura Chitarra

Livello:

Original

 Genere:

Rock

Pagine:

7
Premi

per vedere una partitura
Happenings Ten Years Time Ago Partiture

e

non richiedono alcun plugin. Possono essere stampate una volta


e
richiedono Adobe Flash per giocare e stampare una partitura. Devi stampare le partiture Flash entro 7 giorni.
Nessuna recensione - Recensisci per primo questo articolo. Devi effettuare il
Accedi Se non hai un conto, clicchi su Registrazione