'Til The Tide Creeps In Partitions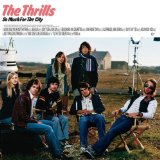 Les arrangements de 'Til The Tide Creeps In peuvent être consultés ci-dessous. 'Til The Tide Creeps In a été écrit par The Thrills.
Pour voir la partition de 'Til The Tide Creeps In, veuillez cliquer sur l'icône

située à  côté de l'arrangement qui vous intéresse. Si nous vous proposons des arrangements pour différents instruments et que vous ne souhaitez voir que ceux correspondant à  un seul instrument, veuillez modifier les critères de sélection dans le cadre situé directement après ce paragraphe.
Nous aimerions connaître votre avis sur nos arrangements. Il vous suffit de vous connecter à  votre compte client et de choisir la chanson que vous souhaitez commenter. Rendez-vous dans la section "Commentaires Client" sur la page de cette chanson et après voir choisi votre pseudo, il ne vous reste plus qu'à  écrire votre message. Aimeriez-vous partager cette chanson avec vos amis ? Cliquez simplement sur le bouton "Share" que vous trouverez sur cette page pour faire découvrir ce fabuleux morceau à  vos amis et à  votre famille. Nous proposons à  l'heure actuelle 1 arrangement de 'Til The Tide Creeps In, pour 1 instrument.
INSTRUMENT

NIVEAU (LEVEL)

STYLE

PAGES

VOIR
PRIX
Solo Tablatures Guitare
Tablatures Guitare

Niveau (Level):

Original

 Style:

Rock / Populaire/Folk

Pages:

5
Cliquez sur

pour voir une partition
'Til The Tide Creeps In Partitions

et

nécessitent pas de plugin. Ils peuvent être imprimés une fois
Il n'y a aucun commentaire client - Soyez la première personne à  écrire un commentaire. Vous devez faire la
Connexion Si vous ne possédez pas de compte vous devez Creer Un Compte