Then I Kissed Her Partitions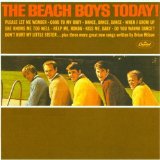 aussi connu comme (And) Then He Kissed Me Partitions
Toutes les partitions disponibles pour la composition Then I Kissed Her sont affichées sur cette page. Le compositeur de Then I Kissed Her est The Beach Boys, Ellie Greenwich, The Crystals.
Great Scores vous laisse prévisualiser tous les arrangements d'une chanson avant achat. Vous pouvez ainsi choisir l'arrangement le mieux adapté à  votre niveau et à  votre style, que vous soyez débutant ou bien musicien confirmé sur votre instrument. Il vous suffit de cliquer sur les deux croches

(notre icône Aperçu avant achat) pour afficher une partition individuelle. Fermez la partition et cliquez sur une autre pour voir un arrangement différent de Then I Kissed Her. Si cette composition est disponible pour plusieurs instruments, une option vous permet de n'afficher que les partitions correspondant à  l'instrument de votre choix. Pour déterminer cet instrument, cliquez sur le menu déroulant "Tous les instruments". Vous pouvez modifier cette sélection à  tout moment.
Il n'y a rien de plus facile que de laisser un commentaire au sujet d'un morceau ou d'un arrangement particulier. Cliquez simplement sur l'onglet Commentaires Client, choisissez un nom d'utilisateur, puis donnez votre avis soit sur un arrangement précis, soit sur le morceau de musique en général. Veuillez cliquer sur le bouton Share juste à  droite pour poster sur Twitter et Facebook. Vous pouvez aussi "aimer" ce site web en utilisant le bouton Facebook "Like" en haut de cette page. Nous pouvons vous proposer la partition de Then I Kissed Her pour 5 instruments. Notre sélection de partitions pour cette chanson compte 3 arrangements au total.
3 arrangements - Instrument:
Cliquez sur

pour voir une partition
Then I Kissed Her Partitions

et

nécessitent pas de plugin. Ils peuvent être imprimés une fois


et
nécessitent le plugin gratuit Adobe Flash. Ces partitions doivent être imprimés dans les 7 jours.
Il n'y a aucun commentaire client - Soyez la première personne à  écrire un commentaire. Vous devez faire la
Connexion Si vous ne possédez pas de compte vous devez Creer Un Compte