Carrying The Banner (Newsies) Partitions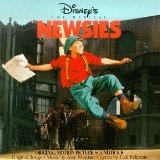 Tous les arrangements disponibles pour Carrying The Banner sont affichés sur cette page et peuvent être prévisualisés. Alan Menken, Jack Feldman est le compositeur de Carrying The Banner.
Pour afficher la première page de Carrying The Banner, cliquez sur l'icône

située à  côté de l'arrangement que vous souhaitez prévisualiser. Après avoir visualisé la partition, fermez la fenêtre d'aperçu. Vous pouvez prévisualiser un autre arrangement de Carrying The Banner afin de choisir celui qui vous convient le mieux. Par défaut, les résultats affichés vous présentent toutes les partitions et tous les instruments disponibles (sauf si vous avez fait une recherche initiale par instrument). Vous pouvez facilement filtrer ces résultats pour afficher uniquement les partitions disponibles pour votre instrument. Utilisez pour cela le menu déroulant intitulé "Tous les instruments".
Vous pouvez donner votre avis sur chacun des arrangements de Jack Feldman, Newsies (Musical), Alan Menken (aussi connu comme Alan Irwin Menken) disponibles sur cette page. Rendez-vous dans la rubrique Commentaires Client ci-dessous, assurez-vous d'être connecté Ã  votre compte Great Scores, choisissez un pseudonyme (qui vous sera définitivement attribué), puis rédigez votre commentaire. Les spams ou les liens vers d'autres sites seront supprimés. Étes-vous un inconditionnel de Facebook, Twitter, LinkedIn ou Digg ? Vous pouvez partager cette page sur le réseau social de votre choix en cliquant sur le bouton vert "Share". Nous vous offrons un choix de 3 arrangements pour Carrying The Banner. Cette sélection contient des partition pour 5 instruments.
3 arrangements - Instrument:
Cliquez sur

pour voir une partition
Carrying The Banner (Newsies) Partitions

et

nécessitent pas de plugin. Ils peuvent être imprimés une fois


et
nécessitent le plugin gratuit Adobe Flash. Ces partitions doivent être imprimés dans les 7 jours.
Il n'y a aucun commentaire client - Soyez la première personne à  écrire un commentaire. Vous devez faire la
Connexion Si vous ne possédez pas de compte vous devez Creer Un Compte