A Way Back To Then Partitions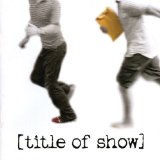 Vous pouvez acheter les partitions du titre A Way Back To Then ci-dessous. L'auteur de A Way Back To Then est Jeff Bowen, title of show (Musical).
Cliquez sur l'icône

 pour afficher un aperçu de la première page de la partition. La plupart des partitions incluent également l'extrait audio correspondant à  la page affichée. Vous pourrez voir et écouter le morceau dans son intégralité après avoir acheté . Si cette composition est disponible pour plusieurs instruments, une option vous permet de n'afficher que les partitions correspondant à  l'instrument de votre choix. Pour déterminer cet instrument, cliquez sur le menu déroulant "Tous les instruments". Vous pouvez modifier cette sélection à  tout moment.
Y a-t-il un arrangement que vous aimez particulièrement sur notre site ? Si oui, faites-le savoir ! Cliquez simplement sur l'onglet "Commentaires Client", choisissez un pseudonyme, puis partagez vos impressions avec l'ensemble des internautes. La musique vous a plu ? Faites savoir à  vos amis que vous jouez ce morceau ! Cliquez sur le bouton Share et sélectionnez l'option de partage qui vous convient parmi celles qui vous sont proposées. À l'heure actuelle, nous avons sur notre site 2 arrangements de A Way Back To Then pour 4 instruments.
2 arrangements - Instrument:
Cliquez sur

pour voir une partition
A Way Back To Then Partitions

et

nécessitent pas de plugin. Ils peuvent être imprimés une fois


et
nécessitent le plugin gratuit Adobe Flash. Ces partitions doivent être imprimés dans les 7 jours.
Il n'y a aucun commentaire client - Soyez la première personne à  écrire un commentaire. Vous devez faire la
Connexion Si vous ne possédez pas de compte vous devez Creer Un Compte
Mon Panier
Votre panier est vide

Devise:

USD

Changer