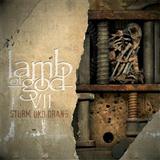 Les partitions disponibles pour les différents arrangements de 512 sont affichées ci-dessous. 512 est un morceau de Lamb Of God.
Pour voir la partition de l'un des arrangements de 512, veuillez cliquer sur l'icône Aperçu avant achat

située à  côté de la partition qui vous intéresse en particulier. En cliquant sur le menu dároulant "Tous les instruments", vous pouvez filtrer les rásultats pour n'afficher que les arrangements pour "instrument sálection".
Vous avez acheté l'un des arrangements de 512 ? Vous aimeriez faire une remarque à  son sujet ? Pas de problème ! Il vous suffit de cliquer sur l'onglet intitulé Commentaires Client ci-dessous, puis de rédiger un commentaire sur l'une des partitions de Lamb Of God qui figurent sur cette page. Il vous faudra d'abord choisir un pseudo et vous connecter à  votre compte client Great Scores. Une fois cette étape effectuée, vous pourrez donner votre avis sur les partitions proposées sur cette page. Étes-vous un inconditionnel de Facebook, Twitter, LinkedIn ou Digg ? Vous pouvez partager cette page sur le réseau social de votre choix en cliquant sur le bouton vert "Share". Nous vous offrons un choix de 1 arrangement pour 512. Cette sélection contient des partition pour 1 instrument.
Cliquez

pour arrangements
INSTRUMENT

NIVEAU (LEVEL)

STYLE

PAGES

VOIR
PRIX
Solo Tablatures Guitare
Tablatures Guitare

Niveau (Level):

Original

 Style:

Metal / Populaire/Folk

Pages:

13
Cliquez sur

pour voir une partition
512 Partitions

et

nécessitent pas de plugin. Ils peuvent être imprimés une fois
Il n'y a aucun commentaire client - Soyez la première personne à  écrire un commentaire. Vous devez faire la
Connexion Si vous ne possédez pas de compte vous devez Creer Un Compte