Something 4 The Weekend Partituras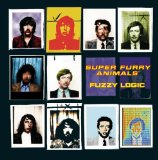 Puedes acceder un poco más abajo en esta página a todas las vistas preliminares disponibles actualmente de los arreglos de Something 4 The Weekend clasificados por tipo de instrumento. Something 4 The Weekend fue compuesta por Super Furry Animals.
Se puede ver una vista preliminar de una página de Something 4 The Weekend de cada una de las partituras disponibles haciendo clic en este botón

que se encuentra pegado a la partitura correspondiente. En la sección "Elegir instrumento" encima de donde están todas nuestras partituras disponibles para esta pieza, puedes escoger entre ver todos los instrumentos disponibles para Something 4 The Weekend o uno en concreto.
Puedes publicar tus opiniones sobre cualquiera de los arreglos de Super Furry Animals en la página de esta canción. Vete a la pestaña de "Opiniones de clientes" que hay un poco más abajo, asegúrate de tener iniciada la sesión en tu cuenta de Great Scores, y después de elegir un nombre de usuario, que te será asignado permanentemente a partir de ese momento para que puedas comentar lo que pienses, podrás dar tu opinión. No incluyas ningún spam o URL, ya que serán eliminados. ¿Eres un ávido usuario de medios sociales como LinkedIn, Twitter, Facebook o Digg? Si es así, puedes compartir esta página en la cuenta del medio social que elijas, haciendo clic en el botón "Share" (compartir). Actualmente tenemos 1 arreglo disponible(s) de Something 4 The Weekend. Además ofrecemos arreglos de esta composición para 1 Instrumento.
INSTRUMENTO

NIVEL

GÉNERO

PÁGINAS

VER
PRECIO
Solo Letras y Acordes
Letras y Acordes

Nivel:

Original

 Género:

Rock

Páginas:

2
Haz clic en

para ver un arreglo
Something 4 The Weekend Partituras

y

no requieren plugins. Puede imprimir estas partituras una vez


y
necesitan el complemento gratuito Adobe Flash. Debes imprimir las partituras Flash dentro de 7 días.
No hay ningunas opiniones de clientes - Sé el primero en escribir una opinión sobre esta partitura. Para escribir una opinión, haz clic en
Entrar Si no tienes una cuenta, haz clic en Registrarte