Blaze Of Glory Partituras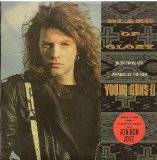 Puedes adquirir abajo la partitura de la canción Blaze Of Glory. El compositor de Blaze Of Glory es Jon Bon Jovi, Bon Jovi.
Haz clic en nuestro botón de previsualización

para ver la primera página de Blaze Of Glory. Puede que esta composición esté disponible para más de un instrumento. En ese caso puedes elegir ver solo los arreglos correspondientes a un instrumento. Lo puedes hacer cambiando el instrumento en el menú desplegable "Instrumento". Puedes volver a cambiar esta selección fácilmente.
No podría ser más sencillo dar tu opinión sobre una pieza o un arreglo en concreto. Haz clic sin más en la pestaña de "Opiniones de clientes", y tras elegir tu nombre de usuario, podrás publicar lo que opines acerca de un arreglo en concreto, o de esta pieza musical en general. ¿Eres usuario de Facebook o Twitter? Si es así, puedes informar fácilmente a tus amigos que estén conectados acerca de esta estupenda obra de arte haciendo clic en el botón "Share" (compartir) de esta página. Blaze Of Glory tiene arreglos para 18 instrumentos y actualmente ofrecemos 22 arreglos en total.
Haz clic

para arreglos
22 arreglos - Elegir Instrumneto:
Haz clic en

para ver un arreglo
Blaze Of Glory Partituras

y

no requieren plugins. Puede imprimir estas partituras una vez


y
necesitan el complemento gratuito Adobe Flash. Debes imprimir las partituras Flash dentro de 7 días.
No hay ningunas opiniones de clientes - Sé el primero en escribir una opinión sobre esta partitura. Para escribir una opinión, haz clic en
Entrar Si no tienes una cuenta, haz clic en Registrarte
Cesta