Be Prepared (The Lion King) Partituras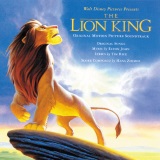 En esta página puedes ver todas las vistas preliminares de los arreglos de la partitura de Be Prepared. Elton John, The Lion King (Movie), Howard Ashman, Phillip Keveren, Alan Billingsley, Tim Rice (también conocido como Sir Timothy Miles Bindon Rice), Alan Menken (Alan Irwin Menken) es el autor de Be Prepared.
Si quieres ver una vista preliminar de una página de Be Prepared, haz clic en este botón de previsualización

y podrás acceder al arreglo que quieres ver. Una vez de que hayas visto la partitura, cierra la ventana emergente, y podrás elegir ver otro arreglo de Be Prepared para tomar así la decisión de compra más adecuada. Puedes modificar fácilmente tu selección de instrumento para el que quieres ver qué partituras que hay disponibles. Solo debes cambiar el instrumento seleccionado (la opción por defecto es "Todos los instrumentos") en la casilla emergente cercana a la opción: "Elegir instrumento".
¿Disfrutas tocando una pieza musical que has adquirido recientemente? Si es así, puede que quieras compartir tus opiniones sobre esta pieza con los demás. Lo puedes hacer pulsando sobre la pestaña "Opiniones de clientes" (está junto a la de "Partituras"), y una vez de que hayas elegido tu nombre de usuario (que será visible para los demás usuarios), podrás publicar tu opinión musical en nuestra web. ¿Eres un ávido usuario de medios sociales como LinkedIn, Twitter, Facebook o Digg? Si es así, puedes compartir esta página en la cuenta del medio social que elijas, haciendo clic en el botón "Share" (compartir). Actualmente puedes elegir entre 7 arreglos de Be Prepared. De entre ese total de partituras actualmente hay disponible(s) 6 instrumentos.
Canciones con el mismo título
This song appears in these medleys
7 arreglos - Elegir Instrumneto:
Haz clic en

para ver un arreglo
Be Prepared (The Lion King) Partituras

y

no requieren plugins. Puede imprimir estas partituras una vez


y
necesitan el complemento gratuito Adobe Flash. Debes imprimir las partituras Flash dentro de 7 días.
No hay ningunas opiniones de clientes - Sé el primero en escribir una opinión sobre esta partitura. Para escribir una opinión, haz clic en
Entrar Si no tienes una cuenta, haz clic en Registrarte