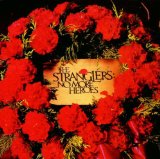 Puedes ver una vista preliminar de la partitura de 5 Minutes un poco más abajo. El compositor de 5 Minutes es The Stranglers (Band).
Abajo puedes encontrar todos los arreglos que tenemos disponibles actualmente de 5 Minutes. Puedes previsualizar cualquier arreglo antes de adquirirlo. Para ello, vete a la partitura que quieres ver y haz clic en el botón de previsualización

en esa línea. Puede que esta composición esté disponible para más de un instrumento. En ese caso puedes elegir ver solo los arreglos correspondientes a un instrumento. Lo puedes hacer cambiando el instrumento en el menú desplegable "Instrumento". Puedes volver a cambiar esta selección fácilmente.
Agradecemos tus opiniones, así que si dispone de un momento para compartir tus reflexiones sobre este The Stranglers (Band) canción o arreglo, o, ya puestos a opinar, sobre cualquier otra canción, deja un comentario breve en la casilla "Opiniones de clientes". Asegúrate de haber iniciado tu sesión. ¿Eres usuario de Facebook o Twitter? Si es así, puedes informar fácilmente a tus amigos que estén conectados acerca de esta estupenda obra de arte haciendo clic en el botón "Share" (compartir) de esta página. Nuestra base de datos tiene actualmente 1 arreglo de 5 Minutes para 1 Instrumento.
Haz clic

para arreglos
INSTRUMENTO

NIVEL

GÉNERO

PÁGINAS

VER
PRECIO
Solo Guitarra Tablaturas
Guitarra Tablaturas

Nivel:

Original

 Género:

Rock

Páginas:

4
Haz clic en

para ver un arreglo
5 Minutes Partituras

y

no requieren plugins. Puede imprimir estas partituras una vez
No hay ningunas opiniones de clientes - Sé el primero en escribir una opinión sobre esta partitura. Para escribir una opinión, haz clic en
Entrar Si no tienes una cuenta, haz clic en Registrarte