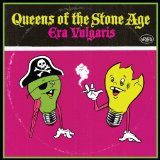 Puedes ver una vista preliminar de la partitura de 3's & 7's un poco más abajo. 3's & 7's es una composición de Queens Of The Stone Age.
Haz clic en el botón de previsualización

 para acceder a una vista preliminar de una página de la partitura. La mayoría de las partituras también ofrecen un extracto de audio de una página de duración. Una vez que hayas adquirido podrás ver y escuchar la pieza en su totalidad. Puede que esta composición esté disponible para más de un instrumento. En ese caso puedes elegir ver solo los arreglos correspondientes a un instrumento. Lo puedes hacer cambiando el instrumento en el menú desplegable "Instrumento". Puedes volver a cambiar esta selección fácilmente.
Agradecemos tus opiniones, así que si dispone de un momento para compartir tus reflexiones sobre este Queens Of The Stone Age canción o arreglo, o, ya puestos a opinar, sobre cualquier otra canción, deja un comentario breve en la casilla "Opiniones de clientes". Asegúrate de haber iniciado tu sesión. Haz clic en el botón "Share" (compartir) de la derecha para compartir esta página en Twitter y Facebook. También puedes añadir nuestra web mediante el botón de "œLike" (Me gusta) de Facebook en la parte superior de la página. Ofrecemos la partitura de 3's & 7's para 2 instrumentos. Puede elegir entre un total de 2 arreglos arreglo(s) de esta canción.
Haz clic

para arreglos
2 arreglos - Elegir Instrumneto:
INSTRUMENTO

NIVEL

GÉNERO

PÁGINAS

VER
PRECIO
Solo Guitarra Tablaturas
Guitarra Tablaturas

Nivel:

Original

 Género:

Rock

Páginas:

9

Solo Letras y Acordes
Letras y Acordes

Nivel:

Original

 Género:

Metal / Rock

Páginas:

2
Haz clic en

para ver un arreglo
3's & 7's Partituras

y

no requieren plugins. Puede imprimir estas partituras una vez
No hay ningunas opiniones de clientes - Sé el primero en escribir una opinión sobre esta partitura. Para escribir una opinión, haz clic en
Entrar Si no tienes una cuenta, haz clic en Registrarte
Cesta