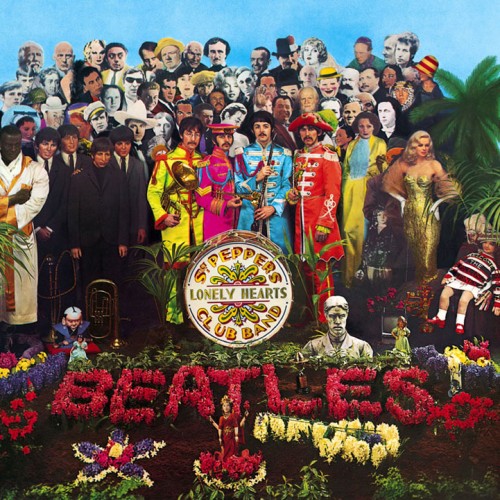 Artist:
The Beatles
(Også kendt som The Fab Four)
,
Jeff Beck
,
John L. "Wes" Montgomery
,
Wes Montgomery
,
Paul McCartney
(Sir James Paul McCartney, The Fireman)
,
John Lennon
(John Ono Lennon, John Winston Lennon)
Tekstforfatter:
The Beatles
,
Jeff Beck
,
Phillip Keveren
,
John Lennon
,
Paul McCartney
Vores arrangementer for A Day In The Life kan ses nedenfor. Dette nummer er skrevet af The Beatles, Jeff Beck, Phillip Keveren, John Lennon, Paul McCartney.
For at se et partitur og høre en kort afspilning af det forud for et eventuelt køb, bedes du klikke på dette ikon

, der er tilstødende til det partitur, som du gerne vil se. Hvis du kun ønsker at se en forhåndsvisning af tilgængelige partiturer for et bestemt instrument, kan du vælge det ønskede instrument i dropdown-boksen lidt længere nede. Dette er kun gældende, når vi tilbyder dette arrangement for en række forskellige instrumenter.
Vi vil gerne opfordre dig til at give en kundeanmeldelse af partituret for A Day In The Life. Dette gøres ved først at logge ind eller oprette en konto, hvis du ikke allerede har en, vælge et unikt skærmnavn (som kan ses af alle), hvorefter du kan gå i gang. Har du lyst til at fortælle dine kammerater om dette stykke musik eller arrangement? I så fald kan du klikke på den grønne del-knap (Share) og beslutte, hvordan du ønsker at dele denne side. Vi har 34 arrangementer af denne sang tilgængelige for 21 instrumenter.
Klik

for arrangementer
34 arrangementer - Vælg instrument:
INSTRUMENT

NIVEAU

STILART

SIDER

PREVIEW
PRIS
Solo Altsaxofon
Altsaxofon

Niveau:

Original

 Stilart:

Rock / Popular & Folk

Sider:

2

Solo El-bas/Basguitar
El-bas/Basguitar

Niveau:

Original

 Stilart:

Popular & Folk / Rock

Sider:

6

Solo Cello
Cello

Niveau:

Original

 Stilart:

Popular & Folk / Rock

Sider:

2

Solo Klarinet
Klarinet

Niveau:

Original

 Stilart:

Rock / Popular & Folk

Sider:

2

Solo Fljøte
Fljøte

Niveau:

Original

 Stilart:

Popular & Folk / Rock

Sider:

2

Solo Valdhorn
Valdhorn

Niveau:

Original

 Stilart:

Popular & Folk / Rock

Sider:

2

Solo Guitar
Guitar

Niveau:

1.5

 Stilart:

Rock / Popular & Folk

Sider:

3

Solo Guitar TAB
Guitar TAB

Niveau:

Original

 Stilart:

Popular & Folk / Rock

Sider:

6

Guitar TAB

Niveau:

Original

 Stilart:

Popular & Folk / Rock

Sider:

7

Guitar TAB

Niveau:

Original

 Stilart:

Popular & Folk / Rock

Sider:

8

Guitar TAB

Niveau:

Original

 Stilart:

Popular & Folk / Rock

Sider:

8

Guitar TAB

Niveau:

Original

 Stilart:

Popular & Folk

Sider:

8

Guitar TAB

Niveau:

Original

 Stilart:

Rock / Popular & Folk

Sider:

7

Solo Lead Sheet
Lead Sheet

Niveau:

Original

 Stilart:

Rock / Popular & Folk

Sider:

3

Lead Sheet

Niveau:

Original

 Stilart:

Popular & Folk

Sider:

3

Solo Lyrics og Akkorder
Lyrics og Akkorder

Niveau:

Original

 Stilart:

Popular & Folk / Rock

Sider:

3

Lyrics og Akkorder

Niveau:

Original

 Stilart:

Rock / Popular & Folk

Sider:

2

Lyrics og Akkorder

Niveau:

Original

 Stilart:

Popular & Folk / Rock

Sider:

2

Obo
Obo / Obo

Niveau:

Original

 Stilart:

Rock / Popular & Folk

Sider:

2

Klaver, Sang & Guitar
Klaver, Sang & Guitar / Klaver / Sang / Guitar

Niveau:

Original

 Stilart:

Musikteori, etc.

Sider:

5

Klaver, Sang & Guitar / Klaver / Sang / Guitar

Niveau:

Original

 Stilart:

Rock

Sider:

6

Klaver, Sang & Guitar / Klaver / Sang / Guitar

Niveau:

Original

 Stilart:

Rock / Popular & Folk

Sider:

6

Solo Klaver
Klaver

Niveau:

Keyboard

 Stilart:

Punk

Sider:

7

Klaver

Niveau:

1.5

 Stilart:

Popular & Folk / Rock

Sider:

5

Klaver

Niveau:

Original

 Stilart:

Punk

Sider:

4

Klaver

Niveau:

Original

 Stilart:

Popular & Folk / Rock

Sider:

6

Klaver

Niveau:

Original

 Stilart:

Popular & Folk / Rock

Sider:

4

Solo Real Book
Real Book

Niveau:

Original

 Stilart:

Religiøst / Punk

Sider:

2

Solo Tenorsaxofon
Tenorsaxofon

Niveau:

Original

 Stilart:

Rock / Popular & Folk

Sider:

2

Solo Basun
Basun

Niveau:

Original

 Stilart:

Popular & Folk / Rock

Sider:

2

Solo Trompet
Trompet

Niveau:

Original

 Stilart:

Rock / Popular & Folk

Sider:

2

Solo Ukulele
Ukulele

Niveau:

Original

 Stilart:

Popular & Folk / Rock

Sider:

3

Solo Bratsch (Viola)
Bratsch (Viola)

Niveau:

Original

 Stilart:

Popular & Folk / Rock

Sider:

2

Solo Violin
Violin

Niveau:

Original

 Stilart:

Popular & Folk / Rock

Sider:

2
Tryk på

for at se et arrangement af noderne
A Day In The Life Noder

og

: Ingen plugin påkrævet. Du kan udskrive disse én gang
0 kommentarer - Bliv den første til at kommentere. At efterlade en kommentar skal du:
Logge ind Hvis du ikke har en konto, klik på Registrering
Indkøbskurv
Der er ingen emner i din indkøbskurv

Valuta:

USD

Skift