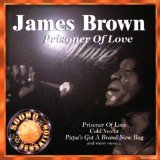 Die Musik für Prisoner Of Love ist weiter unten verfügbar. Dieses Musikstück wurde von James Brown, Leo Robin, Billy Eckstine, Perry Como, The Ink Spots komponiert.
Um ein bestimmtes Notenblatt zu betrachten müssen Sie auf diesen Knopf

klicken. Wenn wir Arrangements für eine Vielzahl von Instrumenten haben, Sie aber nur die Noten für ein bestimmtes Instrument sehen möchten, dann ändern Sie bitte Ihre Wahl dementsprechend in Abschnitt unterhalb dieses Paragrafen.
Wünschen Sie einen Kommentar für eines unserer Stücke abzugeben, dann gehen Sie zur Sektion "Kundenrezensionen" und geben Ihre Meinung dort wieder. Möchten Sie die ganze Welt über diesen großartigen Titel informieren? Toll - klicken Sie einfach auf den "Share"-Knopf und wählen Sie unter Facebook, Twitter, Email oder anderen Mitteilungsmöglichkeiten aus. Sie brauchen hierfür nicht einmal in Ihr Great Scores Konto eingeloggt sein. Sie können aus 4 Arrangements für 5 Musikinstrumente der Komposition Prisoner Of Love wählen.
4 Arrangements - Instrument:
Klicken Sie auf

um ein Arrangement zu betrachten
Prisoner Of Love Noten

und

benötigen kein Plugin. Diese können einmal ausgedruckt werden.
Es gibt keine Rezensionen - Sie können gerne die erste Rezension erstellen. Sie müssen sich hierfür zunächst
Anmelden Sollten Sie kein Konto haben, müssen Sie sich zunächst Registrieren
Warenkorb
Ihr Warenkorb ist leer

Währung:

EUR

Ändern