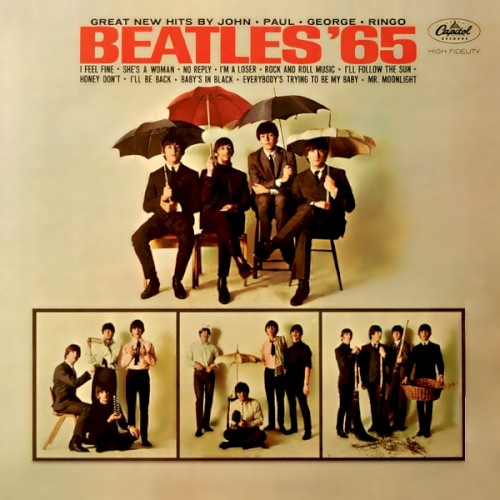 Künstler:
The Beatles
(auch bekannt als The Fab Four)
,
Fred Sokolow
,
Laurence Juber
,
Paul McCartney
(Sir James Paul McCartney, The Fireman)
Verfasser:
Roger Emerson
,
Jason Sifford
,
The Beatles
,
Jim Beloff
,
Liz Beloff
,
Paul McCartney
,
John Lennon
(John Ono Lennon, John Winston Lennon)
Unsere Arrangements für I Feel Fine können Sie weiter unten sehen. Dieses Stück wurde von Roger Emerson, Jason Sifford, The Beatles, Jim Beloff, Liz Beloff, Paul McCartney, John Lennon (John Ono Lennon, John Winston Lennon) geschrieben.
Um ein Notenblatt vor dem Kauf zu betrachten und ein kurzes Demo zu hören, klicken Sie bitte auf das Symbol neben dem Stück das Sie hören möchten. Wenn Sie nur die Noten für ein bestimmtes Instrument sehen möchten, wählen Sie bitte das gewünschte Instrument im Kästchen etwas weiter unten. Dies trifft nur zu, wenn wir Arrangements für eine Anzahl verschiedener Instrumente anbieten.
Wir möchten Sie ermutigen einen Kundenkommentar über die Noten zu I Feel Fine abzugeben. Dazu loggen Sie sich ein, eröffnen ein Konto falls Sie noch keines haben, danach wählen Sie einen Benutzernamen (der für alle sichtbar ist) und dann fangen Sie an. Wenn Sie ein Twitter oder Facebook Konto haben, und sie Ihren Freunden über dieses Musikstück berichten möchten, dann klicken Sie bitte auf den Knopf "Share", wo sie unter verschiedenen sozialen Medienplattformen auswählen können, um dieses Lied zu empfehlen. I Feel Fine ist für 22 Musikinstrumente verfügbar. Es stehen 39 Arrangements zur Auswahl.
Klicke

für Arrangements
39 Arrangements - Instrument:
Klicken Sie auf

um ein Arrangement zu betrachten
I Feel Fine Noten

und

benötigen kein Plugin. Diese können einmal ausgedruckt werden.


und
benötigen Adobe Flash. Diese Arrangements müssen innerhalb von 7 Tagen gedruckt werden.
Es gibt keine Rezensionen - Sie können gerne die erste Rezension erstellen. Sie müssen sich hierfür zunächst
Anmelden Sollten Sie kein Konto haben, müssen Sie sich zunächst Registrieren